Being that I'm such a stat monkey, for my own homebrew era, I have found myself enamored with the work of the Youtuber EC Henry, who has taken background/forgotten ships and made custom 3D models for each, including a little lore and anecdotal backstory for a specific ship of the class.
Because of this, and the detail put into these designs, I'm taking it upon myself to stat out these creations to be inserted into my games, and I thought I would share the project with the forum. If there are any other fanon ships that you think would make good additions to the system, feel free to let me know or post your own stat renditions of said ships.
Back on topic, the first ship I'll be undertaking is the Porsche "Pegasus" redesign he did when covering the team up between Porche and the LF art department.
To me, it reads as a reassessment of the ARC-170 that is mixed in with the U-Wing, turning it into more of a dedicated recon fighter, rather than the multi role heavy fighter role that the 170 previously filled in the Clone Wars.
My preliminary thoughts put it at stats are as follows
Sil 3
Speed 4
Handling +1
HT 14
SS 12
Armor 3
2 Wingtip Medium Laser Cannons
2 Chin Light Ion Cannons
Sensor Range: Long
One Pilot, two copilots/sensor operators
20 Enc
One month consumable
Class 1 Hyperdrive, Class 12 backup
145000 CR, Rarity 5
Art reference here: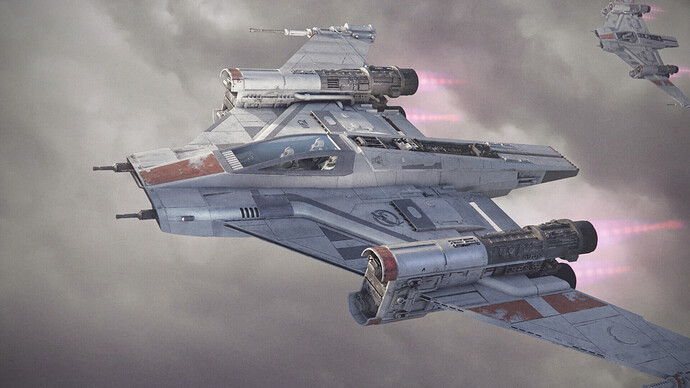 Link to the video here: Fixing Porsche's Star Wars Ship - YouTube