Hey all! Here's a Force power I'm creating for my signature character, Kemna. I could use some feedback, mostly on the pricing of the abilities, but also on the abilities themselves. I'm worried that it (somehow!) might be too expensive for what it does!
Do note that this power is both A) from a character with a very unique perspective on the Force, so it's a bit different, and 2) I don't care about any concerns of canonicity or whether it seems "on brand" for Star Wars. Kemna is just different like that

! And if, for some strange reason, you want to try it out in a game and see how it goes, please let me know!
Also, EDIT! I managed to get an actual tree made up, so it doesn't look so weird! Yay!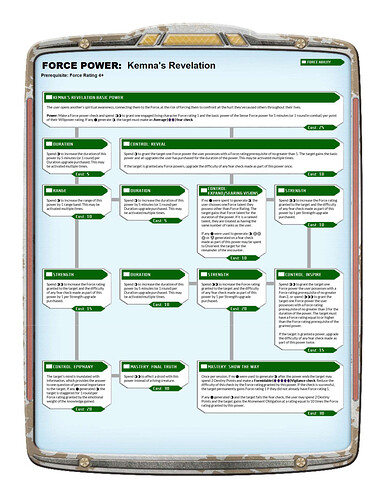 And here's the Atonement Obligation, so it's all in one place:
Atonement
The character has inflicted pain in their past, and the weight of the guilt is dragging them down. Now, they seek to balance the scales, and pay back to others what they'd taken previously. It is important to note that the value of this Obligation does not represent how much pain and sorrow the character has inflicted, but how much it weighs on them. A mercenary who has spent her life killing casually and taking what she wants has left a trail of grief and heartache behind her, and will need to make a concerted effort to pay off even 1 or 2 Obligation, while a priest who has devoted himself to helping the less fortunate may only need to renew his vow and redouble his efforts to pay off 10 or more Atonement. If both characters have a Atonement value of 30, however, they are feeling equally guilty about their past. The mercenary, perhaps, is seeing the faces of the hundreds she's killed, while the priest is remembering that one family he was unable to save, and wracking his mind about "what if?"